If you've ever watched a friend or loved one slowly spiral into alcoholism, you know there are clear signs along the way that help is needed. What many people fail to acknowledge is alcohol use doesn't transition from a casual drink to addiction overnight. Alcohol Use Disorder (AUD) can be recognized before you, or a loved one is diagnosed as alcohol dependent, and alcohol rehab Scottsdale programs are designed to recognize the signs of AUD.
The signs of Alcohol Use Disorder don't stop with the physical symptoms. Patients will show mental, social, and emotional signs of alcohol dependency, even if they aren't pronounced. Understanding AUD and its symptoms, as well as the most effective route to help someone struggling with dependency, will allow you to make the best move when considering help from an alcohol rehab Scottsdale center. Whether you're seeking help for yourself or want to support a family member, it's crucial to gain insight into AUD.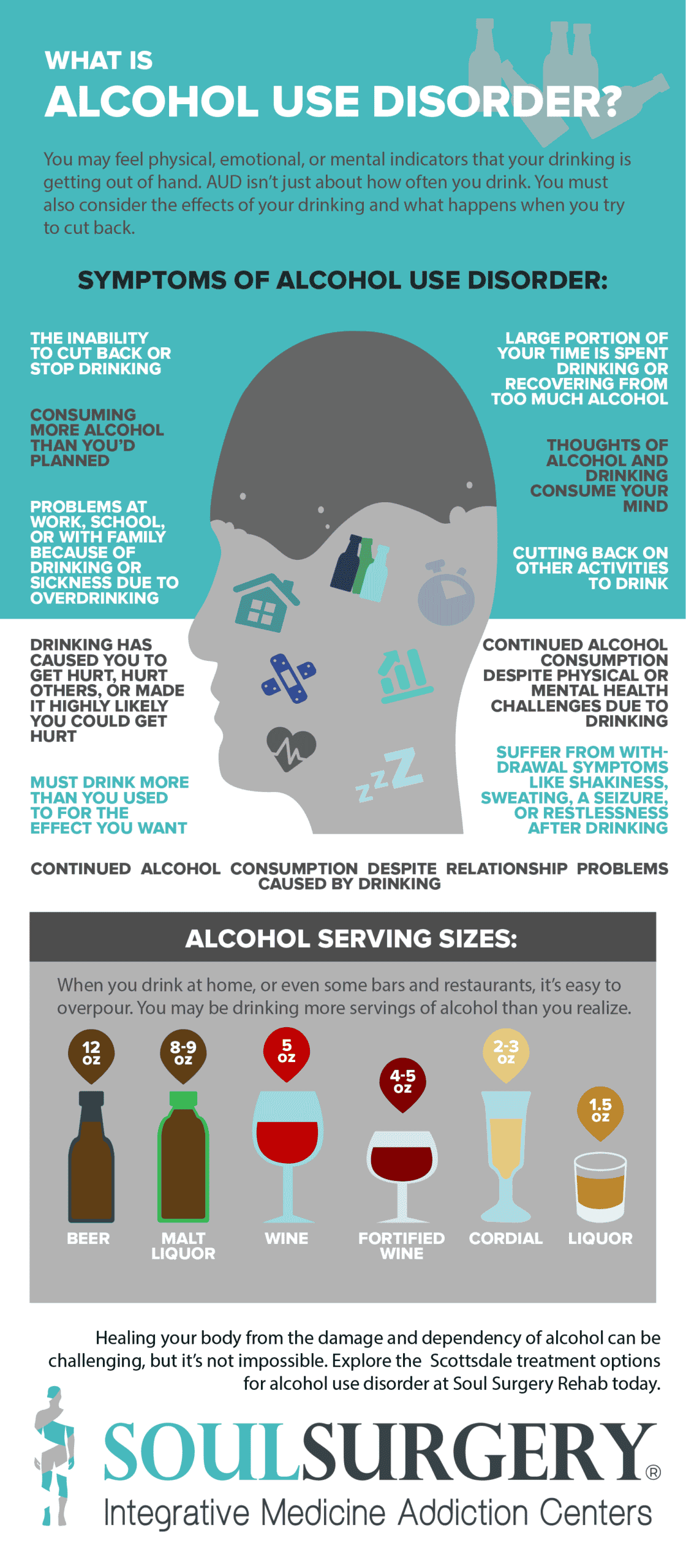 What Is Alcohol Use Disorder?
Alcohol Use Disorder carries several symptoms. You may feel physical, emotional, or mental indicators that your drinking is getting out of hand. AUD presents itself differently in each person. Whether it's happy hour turning to long nights of drinking or a glass of wine becomes a bottle most nights of the week, AUD isn't just about how often you drink. You must also consider the effects of your drinking and what happens when you try to cut back.
Symptoms of Alcohol Use Disorder include:
The inability to cut back or stop drinking
Consuming more alcohol than you'd planned
A large portion of your time is spent drinking or recovering from too much alcohol
Thoughts of alcohol and drinking consume your mind
Problems at work, school, or with family because of drinking or sickness due to overdrinking
Continued alcohol consumption despite relationship problems caused by drinking
Cutting back on other activities to drink
Drinking has caused you to get hurt, hurt others, or made it highly likely you could get hurt
Continued alcohol consumption despite physical or mental health challenges due to drinking
Must drink more than you used to for the effect you want
Suffer from withdrawal symptoms like shakiness, sweating, a seizure, or restlessness after drinking
If you recognize you've dealt with two to three of these symptoms over the past 12 months, you may suffer from mild AUD. Four to five of the symptoms could indicate moderate AUD, and more than five of the symptoms point to severe Alcohol Use Disorder.
When you drink at home, or even some bars and restaurants, it's easy to overpour, especially if you're using an oversized glass. You may be drinking more servings of alcohol than you realize based on the standard sizes. Use the serving sizes below to determine how much alcohol you're consuming in one sitting.
Beer: 12 oz
Malt liquor: 8-9 oz
Wine: 5 oz
Fortified wine: 3-4 oz
Cordial: 2-3 oz
Liquor (80 proof): 1.5 oz
If you think you or a loved one may have an alcohol dependency, it's best to rely on a quality alcohol rehab Scottsdale treatment facility.
Alcohol Rehab Treatment in Scottsdale
Alcohol Use Disorder plays out in large numbers in Arizona. The Centers for Disease Control and Prevention found Arizona ranks 4th in the country for alcohol poisoning deaths. And before you assume college students power those statistics of binge drinking, consider that the most likely to die of alcohol poisoning are men between the ages of 35 and 65. With more than 51 percent of all Arizonans consuming alcohol each month, it's even more important to understand the signs of AUD and available treatments.
Recognizing there's an alcohol dependency doesn't make it any easier to take the necessary steps toward treatment. Alcohol Use Disorder can alter the brain, which can make quitting a complex and challenging task, especially for those who suffer from long-term chronic consumption. It's necessary to seek professional help from an alcohol rehab Scottsdale facility to undergo supervised detox.
Healing your body from the damage and dependency of alcohol can be challenging, but it's not impossible. The skilled rehabilitation specialists at Soul Surgery Rehab understand that you need a custom plan for detox, recovery, and long-term sobriety. Our staff works tirelessly to ensure you're cared for physically, mentally, and socially. With therapy and life skills training, you'll learn new coping mechanisms that allow you to handle challenges without alcohol. Holistic alcohol addiction treatment is also an important part of our regimen. A variety of outdoor activities, gym sessions, and other physically involved exercises are incorporated into our alcohol rehab treatment plan when appropriate. Explore the treatment options for alcohol use disorder at Soul Surgery Rehab today.